Welcome to the Pimax Community
Crystal is here. Reserve yours
Topic starter
03/11/2022 2:34 pm
We are excited to announce that our Crystal QLED is now open for reservations on Nov 2nd at 5 pm EDT
All Pimaxian will receives a $100 discount code [cryspre100] and a Deluxe Modular Audio Strap.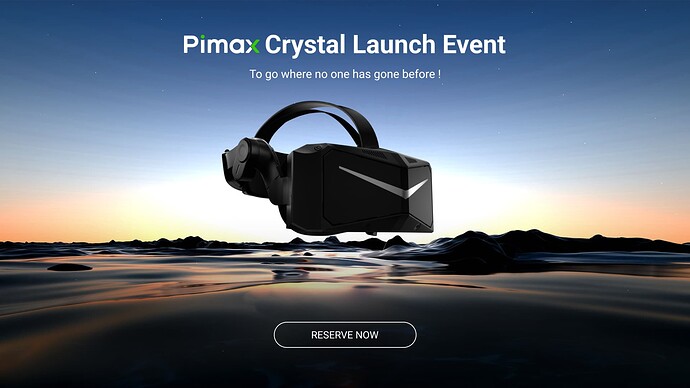 Is there an expected release date?
Topic starter
04/11/2022 11:19 am
Hi @piumaz
The release date has not been officially announced yet, you can continue to follow our Openmr community and our official website for new information.
Sincerely.
You guys planning to come to Tokyo on your road show to showcase the Crystal?
If so, when?  Or when will you announce?
Topic starter
08/11/2022 12:12 pm
@aoilemon77 Hi,
We will be hosting Pimax Frontier 2022 at NOV 9TH Est 5 p.m., more information and events will be posted through this.
We hope to see you there!
Sincerely.
Do I enter the discount code during the reservation checkout, or will I get a chance to enter it during the official purchase?
Topic starter
11/11/2022 3:14 pm
Hi @aoilemon77,
We are starting a worldwide roadshow with the Pimax Crystal QLED. But we are sorry that the planning time for Japan has not been finalized yet. Please pay attention to our recent notice~
Sincerely.
Topic starter
11/11/2022 3:20 pm
For the customers who make a reservation, the coupon code($100) is used for the payment of the balance, and the SN number of the header should be noted on the order.
Hope this helps you.
Sincerely.
Pimax is starting a worldwide roadshow with the Pimax Crystal QLED & Pimax Portal!
Starting from November 19th Berlin to January 5th CES US. We have a few events planned already in Europe, sign up in the map below to anywhere you prefer, there will be more locations and events coming, make sure you subscribe to our newsletter, can't wait to see you face to face.
Dear Pimax team,
Let's say I'm planing to use the headset only on PC (through cable) and doesn't value the new WiFi 6E, the new Snapdragon or the 6000mAh battery.
Would you be offering a version of the Crystal or 12K OLED for PC tethered users as well ?
Regards
Hello,
I placed an order to reserve a Pimax Crystal on November 3rd, and since then you've announced the Pimax Portal and VR3.0 Bundles. I noticed only the bundles are showing an expected delivery date of December 2022. The standalone Crystal reservation does not show an expected delivery date. Will the original Crystal Reservations be prioritized higher or lower (in terms of shipment order) than these new bundles? What I'm getting at, what will be the fastest way for me to get my hands on the Crystal, will it be my original reservation order, or should I place a new reservation with one of the new bundle options to get it quicker? Thank you in advance, greatly looking forward to getting my hands on your new products, you guys are making some very exciting stuff.
Regards,
Hallo,
das würde ich auch gerne wissen. 
Mit freundlichen Grüßen.
I'm foggy about the title "Crystal is here. Reserve yours"
Are they even shipping yet?